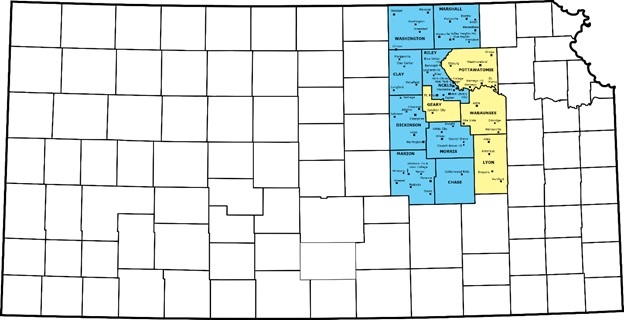 Reviewed by the NCKLS Executive Committee – May 31, 2018
Reviewed by the State Library Advisory Board – June 8, 2018
For review by the NCKLS System Board –August 2, 2018
Section 1: System Description and Purpose
The purpose of the North Central Kansas Libraries System (NCKLS) is defined by K.S.A. 75-254. Regional library systems exist "for the state in cooperation with local libraries to provide adequate library services to all citizens of the state through regional systems of cooperating libraries herein provided, by the joint planning and financing of library services to improve existing service, to utilize such federal aid funds as may be available and to extend library service to persons not having the same at this time." NCKLS bylaws further define the mission stating "The North Central Kansas Libraries System is a regional system of cooperating libraries whose purpose is to better utilize human and material resources by sharing programs and services."
NCKLS includes 12 counties covering 9,271 square miles, with a total service population of 238,951 residents (KS certified population July 1, 2016). As defined by K.S.A. 75-2549b, NCKLS is "comprised of the counties of Washington, Clay, Dickinson, Marion, Marshall, Riley, Pottawatomie, Geary, Wabaunsee, Morris, Chase, and Lyon."
NCKLS members include 40 legally established public libraries, five college/university libraries, seven school districts, one special library and six "outlets." Outlets provide basic library service points in communities that are generally too small to support a public library.
Taxing Counties
Taxing counties levy a system tax on areas that are not already served by a legally established public library. NCKLS includes eight taxing counties with 33 legally established public libraries and six outlets (designated with *) in the following towns which include:
Chase (population 2,669)
Burnley Memorial (population 1,082)
Clay (population 8,143)
Clay Center (population 4,069)
Clifton (population 240)
Longford *
Morganville*
Wakefield (population 949)
Dickinson (population 19,064)
Abilene (population 6,469)
Chapman (population 1,361)
Enterprise (population 809)
Herrington (population 2,362)
Hope (population 339)
Solomon (population 1,039)
Talmage/ Buckeye Township (423)
Marion (population 12,112)
Burns (population 220)
Florence (population 441)
Goessel (population 508)
Hillsboro (population 2,887)
Marion (1,838)
Peabody (population 1,329)
Marshall (population 9,836)
Axtell (population 400)
Beattie (population 193)
Blue Rapids (population 971)
Frankfort (population 692)
Marysville (population 3,294)
Vermillion (population 108)
Waterville (population 644)
Morris (population 5,573)
Council Grove (population 2,060)
Dwight (population 255)
Elm Creek Township/Wilsey (population 291)
White City (population 572)
Riley (population 73,343)
Leonardville (population 440)
Manhattan (population 54,983
Ogden*
Randolph*
Riley (population 972)
Washington (population 5,546)
Clifton (289)
Greenleaf*
Haddam*
Hanover (population 660)
Washington (population 1,076)
Contracting Libraries
Contracting libraries are located in four counties that do not levy a system tax.
Contract fees and services are reviewed annually by the NCKLS Executive Committee and approved by the NCKLS System Board. There are 7 contracting libraries in the following non-taxing counties:
Geary (population 35,586)
Dorothy Bramlage Public Library – Junction City (serving the county population)
Lyon (population 33,510)
Americus Township (population 1,491)
Hartford/Elmendaro Township (population 783)
Emporia (population 24,816)
Lyon County #1 – Allen (population 937)
Pottawatomie &
Wabaunsee (service area population 25,674 for both counties)
Contracts as Pottawatomie/Wabaunsee Regional Library System – a single entity in two counties with branches in St. Mary's, Alma, Eskridge, Onaga, and mini libraries in Alta Vista, Harveyville, Olsburg, and Westmoreland, Wamego Public Library – Wamego (population 4,715) Is not a part of the Pottawatomie Wabaunsee Regional Library System and contracts independently.
Affiliate Libraries
Affiliate members are libraries that are not public libraries. Affiliates share in services and use of system resource materials including information delivery services of all types, i.e., computer services, telecommunications services, interlibrary loan services, and reference and referral services, and will reciprocate such services and materials to supplement system resources as determined and approved by the NCKLS System Board and the administrative head of the affiliate library. The operational, funding, governance, and service patterns of the affiliate libraries are not included in the program budgeting for the public libraries of the system. Affiliate libraries include:
Flint Hills Technical College (Lyon County)
Kansas State University (Riley County)
Manhattan Area Technical College (Riley County)
Manhattan Christian College (Riley County)
Tabor College (Marion County)
Fort Riley Post Library (Riley County)
USD 384 Blue Valley (Riley County)
USD 284 Chase (Chase County)
USD 417 Council Grove (Morris County)
USD 224 Clifton-Clyde (Washington County)
USD 410 Hillsboro (Marion County)
USD 498 Valley Heights (Marshall County)
USD 320 Wamego (Pottawatomie County
Section 2: Program of Services & Annual Plan
NCKLS's program of services and annual goals are consistent with the purpose of regional library systems and are defined by six service areas.
Consulting services
Youth services and program support
Continuing education and training for library staff and trustees
Technology support
Resource sharing
Grants and financial support to public libraries in taxing counties
The program of services, goals and objectives and budget for the coming year are reviewed annually at the NCKLS Executive Committee meeting in May, and are presented to the NCKLS System Board for approval at the annual meeting on the first Thursday in August.
GOAL 1
All libraries in the NCKLS region will have access to the information and resources they need to manage library operations with consulting services, and timely, accurate, up-to-date communication.
Service Area:
Consulting services are available to all libraries in the region. Librarians and library boards may call on NCKLS staff for information and assistance in the areas of library governance, administration, and operation. Examples include board orientation, budget development, human resource management, marketing and public relations, planning, grant writing, collection management, programming for all ages, and referral to appropriate resources for additional assistance.
Program activities include:
Bi-monthly directors' meetings during which librarians share information and provide feedback to NCKLS staff.
Development and implementation of routine surveys and/or additional measures of impact to assess service needs and gather feedback on an ongoing
Maintaining and delivering information about available system services and topics of interest in print and electronic formats, including a bi-monthly newsletter and the NCKLS website.
Maintaining a collection of professional materials available for loan.
Evaluate and develop methods of delivering training for public library board members using the Kansas Library Trustee Manual, including an orientation/introduction to NCKLS services.
GOAL 2
NCKLS will provide librarians with the tools and assistance to create young readers from birth through teen years.
Service Area:
Libraries play a critical role in the development of early childhood literacy and provide services and resources for school-aged children and teens, to encourage a life-long love of reading. NCKLS provides a full-time consultant for children's services to assist member libraries in planning and developing programs and collections for youth ages 0 to 18 and in maintaining working relationships with school librarians.
Program activities include:
Support to libraries to encourage and plan for regularly scheduled programs for children and/or teens. This includes training, regional workshops and materials for all ages.
Distribution of summer reading materials and hosting an annual workshop in cooperation with other regional library systems.
Partnering with area school districts to host programs or activities of interest.
Continue to develop and maintain program kits for all ages.
GOAL 3
Librarians and trustees in the NCKLS region will receive educational support and training to meet their needs and interests and to help them be successful in their jobs.
Service Area:
NCKLS offers educational opportunities at workshops for librarians and board members in a variety of formats, as well as funding to attend workshops, conferences or activities that meet individual needs and interests.
Program activities include:
An annual schedule of programs and training opportunities based on feedback from libraries.
Support for every new public library director through participation in in the state-wide APPLE program.
Funding for continuing education grants and travel reimbursement for librarians and trustees to help support workshop costs, travel, registration and attendance at library or library-related conferences and workshops.
Developing and/or curating online content for continuing education including use of the Niche Academy.
GOAL 4
All NCKLS libraries will receive support and assistance with technology to provide access to online resources and services that meet the needs of residents in each community.
Service area:
Technology support is a priority for system services. Technology support includes computer and telecommunication systems for library productivity and public services. Examples include support for a shared consortium catalog; assistance with planning, evaluating, purchasing and utilizing hardware and software; assistance with establishing Internet access; and training for staff.
Program activities include:
Assistance in the development of a written technology plan to guide planning and purchasing to meet the goals of each library.
Assistance in maintaining wireless Internet connectivity and assistance in gathering statistics for the state report.
Technology training for library staff on a variety of library and productivity applications.
Maintaining a server and providing training for WordPress for individual public library websites.
Funding and support for annual e-rate applications to public libraries in taxing counties.
Support for purchasing and installing technology equipment and antivirus and security software.
Troubleshooting support via phone, email, remote access, and in person.
Maintaining Internet filtering for public libraries.
GOAL 5
NCKLS will provide services to extend resource sharing and provide efficiencies through technical services, processing support and shared collections.
Service area:
NCKLS subsidizes efficient, low-cost technical services for ordering, cataloging and processing materials to encourage libraries to share resources and maintain accurate holdings. NCKLS libraries have the advantage of volume discounts for materials and supplies. NCKLS offers access to a collection of popular reading material and information resources in print and in electronic formats to expand resources available to each library.
Program activities include:
Support for 22 public libraries participating in the NorCat regional catalog, including administrative and technical support, as well as catalog enhancements for consortium members.
Coordinated purchasing, processing and cataloging services to facilitate the acquisition of library materials and supplies for optimum discounts and support.
Funding to eligible public libraries for courier services via the Kansas Library Express or interlibrary loan costs to encourage resource sharing.
Assistance with interlibrary loan for borrowing and lending materials as needed.
Assistance with collection management including weeding.
Subscription to OCLC's CatExpress for system-wide use.
Funding for shared eBook and electronic resources.
Rotating book collection to participating libraries.
Rotating collection of large print books to long-term care institutions through local libraries.
Evaluate methods for sharing resources in a variety of formats that meet the needs of the system libraries.
GOAL 6
NCKLS libraries in taxing counties will benefit from financial grants to support basic services and encourage innovation.
Service Area:
In addition to extended service grants, eligible libraries in taxing counties may receive grants for technology improvements, service improvements, and continuing education and programming grants.
Program activities include:
Public libraries in taxing counties receive extended service grants to supplement collections.
Public libraries in taxing counties may apply for and receive technology grants to upgrade, improve or enhance technology in their libraries.
Public libraries in taxing counties may apply for and receive service improvement grants to make improvements in their libraries that create a comfortable, welcoming place.
Public libraries in taxing counties may apply for and receive programming grants for activities and programs in their libraries.
System Governance and Staffing
System Staff
| | | |
| --- | --- | --- |
| Position | Staff Member | FTE |
| Director | Linda Knupp | 0.3 |
| Assistant Director/Consultant | Carol Barta | 1.0 |
| Technical Services and Collections Manager | Marcia Allen | 0.4 |
| Human Resources Manager | Teri Belin | 0.3 |
| Technical Services Assistant | Kandy Briggs | .50 |
| Custodian | Charlotte Channel | 0.25 |
| Technology Trainer | LaDonna Clark | 0.625 |
| Rotating Books Coordinator | Denise Coon | 1.0 |
| Business Manager | Jennifer Lund | 0.5 |
| Technology Consultant | Duane Mayer | 1.0 |
| Assistant Technology Consultant | Kim Scaler | 1.0 |
| Clerk | Krystal Cooper | 1 |
| Technical Services Cataloger | Marleen Moorman | 0.1 |
| Acquisitions Assistant | Kirk Hargett | 1 |
| Youth Services Consultant | Sandy Wilkerson | 1.0 |
| Interlibrary Loan Clerk | Ida Smith | 0.2 |
NCKLS System Board and Executive Committee
The System Board is the governing body of the North Central Kansas Libraries System and consists of one library representative elected by the trustees of each participating library and one representative of each taxing county to represent the territory not within the district of any participating library, but within the tax district of NCKLS.
The System Board's authority and responsibility is identified in K.S.A. 75-2550 and includes the responsibility to vote on the polices and philosophy of the operation of the system as set by the NCKLS Executive Committee including the annual budget and service plan, as well as the election of board officials who will serve on the Executive Committee.
The Executive Committee consists of 14 members, one member elected from each participating county and 2 elected from those appointed by the boards of county commissioners in the 8 taxing counties.
NCKLS's bylaws are available at http://new.lib.nckls.org/about/by-laws/